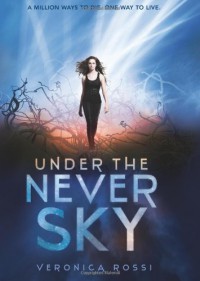 3.5 stars full review here http://fireandicephoto.blogspot.com/2012/01/book-review-under-never-sky.html
I had a rocky start with Under the Never Sky mostly because I spent the opening chapters scratching my head wondering what was going on.The first scenes really reminded me of Lord of The Flies as we are introduced to a group of friends who leave their main pod for an outing and things turn violent. Without any character building or back story or explanation why, you see teen boys gone savage. It isn't until much much later that we understand part of why things happen the way they did.. It took a good half of the book for me to start enjoying myself since I felt lost as a reader to the world Rossi was building. When I finished the book a month ago there weren't many reviews posted on Goodreads to help fill in the blanks of what I couldn't put together. Now there are a ton, and it seems many readers caught on and loved the setting much more than I did.
The world is based on two societies, one in pods or realms where the inhabitants are protected from the other harsh and dangerous outside world full of savages and cannibals. Members of pod society wear eyepieces that give an receive transmissions, only experiencing things as a simulated reality. Aria, one of the main characters is discharged from her pod into the outside Death Shop to fend for herself after the skirmish of the first chapters involving a top officials son. There she encounters Peregrine, or Perry for a second time. The two are forced together by circumstance though they hate and mistrust one another. Their relationship takes a long time to build and develop which I enjoyed but I wish I felt more of a connection to Aria. We don't know much about her except for that Perry thinks she smells wonderful nd she can really sing. I found myself wanting to more more of her history and her relationship with her mother whom she is fervently seeking contact with. I liked Perry and the idea of genetically evolved creatures made a lot of sense. My only turn off was the pointy teeth and lion-like predator aspect of him which I know was part of the adaptation to his world, but threw me for a loop. My favorite scene between both narrators involved Aria's training to face a coven of cannibals on the roof of their allies's protected community. If you know which one I am talking about it is awesome!
Under the Never Sky will appeal to fans of dystopian post apocalyptic fiction and it is unique int hat it has supernatural and fantasy elements. Already, those who got an advanced read are calling it amazing. I don;t know why it didn't quite click with me but am hoping book two will fill in some of hte world building and character connection gaps. I would recommend it for older teens and adults as there is heavy violence and two characters have a sexual relationship, though I appreciated that it was not described in detail and the author often left much of the romance to the readers imagination. Thanks so much to Harper Teen and Netgalley for the early peek.