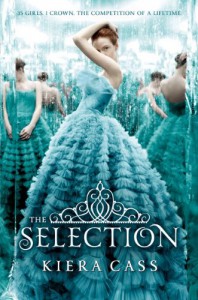 Fast read. I really struggled with Aspen and America's relationship. He's a creep! And the ending felt totally out of character for him. I've heard these titles shelved in YA dystopian or fantasy, but I don't think they really fit neatly into either category... you tell me what you think.
If you are a fan of the TV series Bachelorette this has the same feeling to it. There are some light dystopian vibes as this is a futuristic society based on a tight caste system where the mates are selected for the prince. The main man, Prince Maxon and some stitled and formal lines. I think was meant to be that way, but at times I still had trouble connecting to his way of talking.
There some great scenes of "ear tugging" between he and America Singer, the voice of the book. I liked it enough to move on to book two!
I was bothered by the content in book one wouldn't let my daughters read it.
Content: sleepovers, heavy making out, mention of sex and virginity, drinking